Cricket Grounds Window Cleaning & Building Maintenance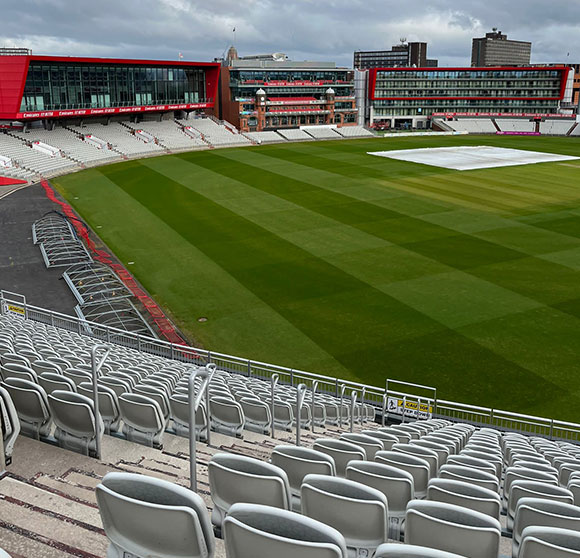 Cricket Grounds Window Cleaning Company
At Clean Reach NW, we understand the importance of maintaining the pristine condition of cricket grounds. Our dedicated team provides professional window cleaning and comprehensive building maintenance services that ensure your cricket grounds remain in top shape, ready to host thrilling matches and create unforgettable experiences for players and spectators alike.
We had the privilege of working on the prestigious Old Trafford Cricket Ground, the historic home of Lancashire County Cricket Club in Manchester. Our team of skilled professionals provided exceptional window cleaning services, ensuring that the iconic venue maintained its impeccable appearance. We also carried out comprehensive maintenance tasks to preserve the charm and functionality of the facility. With our attention to detail and commitment to excellence, we helped create a pristine environment for players and spectators to enjoy the rich heritage of cricket at Old Trafford.
Clean Reach NW: cricket ground commercial cleaners...
Unparalleled customer service for cricket grounds window cleaning. Whether it's scheduling window cleaning services at a convenient time or providing regular updates on the progress of the project, our friendly and knowledgeable staff is dedicated to keeping you informed and involved throughout the entire cleaning process. We strive to build long-lasting relationships with our clients based on trust, reliability, and exceptional customer service.
Give us a call today for a free no obligation quote.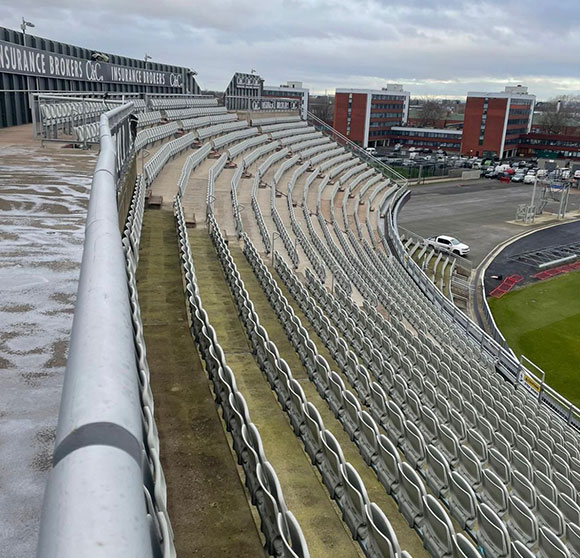 Our Professional Cricket Grounds Window Cleaning Service
Our professional cricket grounds window cleaning services are tailored to meet the unique requirements of cricket venues. We employ cutting-edge techniques and state-of-the-art equipment to deliver outstanding results. From removing dirt and grime from windows to restoring the sparkle and clarity, our skilled technicians leave no stone unturned to enhance the visual appeal of your facilities.
Our dedicated team also specialises in cleaning and maintaining the metal work of cricket grounds, ensuring that every aspect of the venue shines with brilliance.
In addition to window cleaning, we offer a range of cricket grounds cleaning and building maintenance services, including:
Cricket Grounds Jet Washing:
Our high-pressure jet washing services are perfect for removing dirt, grime, and debris from cricket ground surfaces, leaving them clean and revitalised. Whether it's the pitch, seating areas, or walkways, our thorough jet washing process ensures a spotless and inviting environment for players and spectators alike.
Cricket Grounds Cladding Cleaners:
Our experienced team specialises in cleaning and restoring cladding surfaces at cricket grounds, ensuring they maintain their aesthetic appeal and protect the integrity of the structure. Using industry-leading techniques and eco-friendly products, we remove dirt, stains, and pollutants, revealing the true beauty of the cladding and enhancing the overall appearance of the premises.
Cricket Grounds Gutter Cleaning:
We provide thorough gutter cleaning services for cricket grounds, ensuring proper drainage and preventing water damage to the facility. Our trained professionals efficiently remove leaves, debris, and blockages, keeping the gutters clear and functioning optimally to protect the infrastructure from potential issues caused by water accumulation.
Cricket Grounds Graffiti Removal:
Our skilled technicians employ advanced techniques to effectively remove graffiti from cricket ground surfaces, restoring their pristine appearance. Using safe and efficient methods, we eliminate graffiti paint, and markings, maintaining the professional image of the grounds and promoting a positive atmosphere for players and visitors.
Cricket Grounds Cradle Work:
With expertise in cradle work, we can access and clean difficult-to-reach areas of cricket ground structures, ensuring every corner is meticulously maintained. Our skilled team operates with precision and safety, utilising cradle systems to reach heights and angles that are otherwise challenging, guaranteeing a comprehensive cleaning and maintenance solution for your cricket ground.
Abseiling Window Cleaning Cricket Grounds:
Our trained professionals utilise abseiling techniques to clean and maintain the windows of cricket grounds, guaranteeing crystal-clear views and a pristine look. With a focus on safety and efficiency, we ensure that every window is meticulously cleaned, enhancing natural light and showcasing the architectural beauty of the venue.
Cherry Picker Hire for Cricket Grounds:
We offer cherry picker hire services, providing safe and efficient access to elevated areas of cricket grounds for cleaning and maintenance purposes. Our well-maintained cherry pickers and experienced operators ensure seamless operations, enabling us to carry out tasks with precision, regardless of the height or location of the area to be serviced.
Trust us to enhance the appearance and functionality of your cricket ground. Contact us today for a quote!
North West | North East | Yorkshire & The Humber | West Midlands | East Midlands | East of England | Greater London | South East | South West