Industrial Window Cleaning & Building Maintenance Services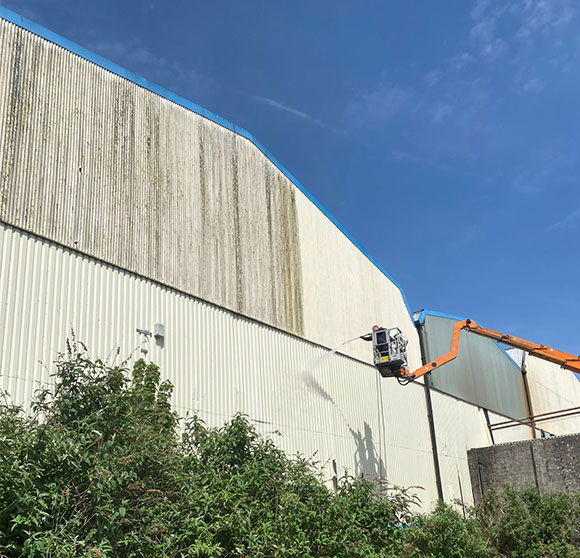 Comprehensive Industrial Cleaning and Maintenance Solutions
Here at Clean Reach NW, we take great pride in providing professional industrial cleaning and building maintenance services tailored to meet the bespoke needs of industrial facilities like yours. We understand that a clean and well-maintained industrial environment is crucial for productivity, safety, and compliance. With our experienced team of skilled cleaning professionals and cutting-edge equipment, we deliver reliable, thorough, and personalised cleaning solutions to enhance the appearance and functionality of your industrial space adhering to health and safety rules.
When it comes to our industrial cleaning services, we are dedicated to delivering outstanding results. Our team consists of highly trained professionals who are equipped with advanced techniques and environmentally friendly cleaning products. We prioritise meticulousness and attention to detail in every task we undertake, ensuring that your industrial facility meets the highest standards of cleanliness and hygiene.
Clean Reach NW serving industrial companies...
At Clean Reach NW, we believe that excellent customer service is as crucial as the quality of our cleaning services. We prioritise open communication, actively listening to your needs and concerns to ensure that our services meet your expectations. Your satisfaction is our ultimate goal, and we constantly strive to improve and refine our services based on your valuable feedback.
Choose Clean Reach NW as your trusted partner for industrial cleaning and maintenance, and experience the difference our professional services can make to your industrial building.
Give us a call today for a free no obligation quote.
Our industrial cleaning services cover a wide range of areas, ensuring that every aspect of your facility receives the attention it deserves. From impeccable window cleaning and effective surface treatments to comprehensive maintenance tasks, we go the extra mile to create a clean and optimised working environment for your industrial operations.
Industrial Window Cleaning Services:
At Clean Reach NW, we specialise in providing top-quality industrial window cleaning services for a wide range of industrial facilities. We recognise that clean and well-maintained windows are crucial for safety, productivity, and aesthetics within industrial environments. Our expert window cleaners are highly trained and equipped with specialised equipment to tackle even the most challenging industrial window cleaning projects. We work with innovative techniques and eco-friendly cleaning solutions to leave your windows spotless and enhance the natural light transmission.
Industrial Building Maintenance:
As well as window cleaning, we offer comprehensive building maintenance solutions for industrial properties. Our skilled team is experienced in handling various maintenance tasks, including cladding cleaning, gutter cleaning, graffiti removal, and more. We understand the importance of maintaining the structural integrity and visual appeal of your industrial building. With our expertise and attention to detail, we ensure that your building remains in optimal condition, minimising downtime and maximising its lifespan.
Industrial Jet Washing and Pressure Washing:
To keep your industrial surfaces clean, safe, and functional, we provide industrial jet washing and pressure washing services. Over time, industrial spaces can accumulate dirt, grime, grease, and other contaminants that can impact the efficiency and appearance of your surfaces. Our high-pressure washing techniques and industrial-grade equipment effectively remove stubborn stains, grease buildup, and dirt from various surfaces, including floors, walls, driveways, and loading docks. We prioritise safety and efficiency to deliver exceptional results that meet your industrial cleaning needs.
Industrial Cladding Cleaning:
Maintaining clean and well-preserved cladding is essential for the overall appearance and protection of your industrial facility. Our professional team focuses on industrial cladding cleaning, using advanced cleaning methods and equipment to remove dirt, grime, pollutants, and weathering effects. We understand the importance of preserving the integrity of your cladding material while ensuring a thorough and efficient cleaning process. With our expertise, we help you maintain a clean and professional look for your industrial building.
Industrial Gutter Cleaning:
Clean and properly functioning gutters are vital for the protection of your industrial facility from water damage and structural issues. Our industrial gutter cleaning services are designed to remove debris, leaves, and other blockages that can hinder proper water flow. We have specialist equipment and techniques to ensure a thorough clean, preventing potential roofing problems and extending the life of your gutters.
Industrial Graffiti Removal:
Graffiti can deface the appearance of your industrial facility and negatively impact its image. Our industrial graffiti removal services are designed to swiftly and effectively remove graffiti from various surfaces, including walls, doors, and equipment. Our fully trained cleaning technicians exploit advanced graffiti removal techniques and eco-friendly products to restore the cleanliness and professionalism of your industrial space.
Industrial Cradle Work and Abseiling:
For industrial buildings that require specialised access, such as high-rise structures, we offer industrial cradle work and abseiling services. Our skilled professionals are trained in performing window cleaning and maintenance tasks at high up using cradles or abseiling. We prioritise health & safety, and adhere to strict industry regulations, ensuring that your industrial windows are cleaned and maintained properly with the utmost care.
Cherry Picker Hire for Industrial Properties:
When it comes to accessing elevated areas of your industrial facility, we provide cherry picker hire services to get the best clean possible!
North West | North East | Yorkshire & The Humber | West Midlands | East Midlands | East of England | Greater London | South East | South West