Schools Window Cleaning & Building Maintenance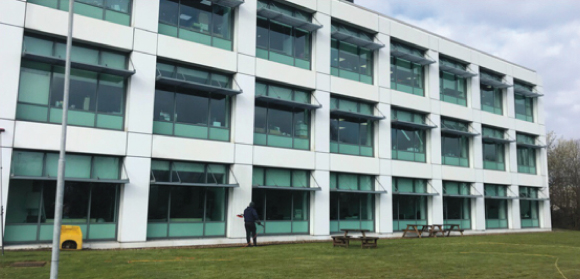 Comprehensive School Window Cleaning Services
From routine maintenance to high-rise window cleaning, we offer a wide range of services tailored to meet the requirements of schools. Our services include school window cleaning, pressure washing, cladding cleaning, gutter cleaning, graffiti removal, and more. We are highly trained and experienced professionals who are knowledgeable in all aspects of school window cleaning.
With our expertise in school window cleaning, we provide thorough and efficient services that meet the unique needs of educational institutions. Our school window cleaning services include routine maintenance, deep cleaning, and restoration, which are all tailored to meet your specific requirements and ensure bright and clear windows throughout. We utilise state-of-the-art equipment and eco-friendly cleaning solutions to deliver outstanding results while prioritising the safety and well-being of everyone involved. 
Clean Reach NW: customised solutions for your school's needs...
We understand that every school has unique needs and requirements. Our team works closely with each client to develop customised cleaning plans that address specific challenges and deliver optimal results. We are flexible and adaptable, accommodating your schedule and budget.
Contact us today to discuss your school's window cleaning needs and schedule a consultation. Let us help you create a clean and welcoming environment for your students and staff.
Give us a call today for a free no obligation quote.
Our Professional Schools Window Cleaning Service
Looking for schools window cleaning and building maintenance services? Clean Reach NW's experienced professionals deliver thorough and safe cleaning solutions for educational institutions. With a deep understanding of the unique needs of educational institutions, Clean Reach NW offers comprehensive window cleaning services for schools, focusing on detail-oriented cleaning that leaves windows streak-free and enhances the overall aesthetic appeal of the campus.
Our cleaners are equipped to handle high-rise window cleaning for schools, employing trained professionals who utilise specialist equipment and follow strict safety protocols to ensure the pristine appearance of windows in large schools, colleges, and universities.
Although we specialise in window cleaning services, we also offer an array of building maintenance work for schools, including:
School Pressure Washing and Jet Washing:
Clean Reach NW offers pressure washing services for schools, effectively removing dirt, grime, and mould from various surfaces, including walkways, facades, and outdoor areas, ensuring a clean and safe environment for students and staff. Jet washing efficiently cleans and restores various surfaces in schools, such as playgrounds, sports courts, and exterior walls, removing tough stains and debris and revitalising the schools' surroundings.

School Cladding Cleaners:
With expertise in cladding cleaning, Clean Reach NW's professional team ensures thorough and precise cleaning of school cladding, maintaining its integrity and enhancing the visual appeal of the building.
School Gutter Cleaning:
Clean Reach NW offers comprehensive gutter cleaning services for schools, ensuring that gutters remain free from debris and properly functioning, preventing water damage and maintaining the structural integrity of the building.
School Graffiti Removal:
Clean Reach NW provides efficient graffiti removal services for schools, employing specialised techniques and products to effectively remove graffiti from various surfaces, restoring the school's appearance and discouraging further vandalism.
School Cradle Work:
Clean Reach NW's skilled professionals are experienced in school cradle work, utilising safe and secure cradle systems to access and clean windows in hard-to-reach areas, ensuring all windows are meticulously cleaned and maintained.
Abseiling Window Cleaning Schools:
Clean Reach NW offers abseiling window cleaning services for schools, employing trained and certified professionals who utilise safe and efficient abseiling techniques to clean windows in tall educational buildings, delivering exceptional results.
Cherry Picker Hire for Schools:
Clean Reach NW provides cherry picker hire services for schools, offering safe and reliable access to high windows and difficult-to-reach areas, ensuring thorough cleaning and maintenance of windows and building exteriors.
Contact Clean Reach NW today for professional school window cleaning services and maintain a clean and inviting learning environment.
North West | North East | Yorkshire & The Humber | West Midlands | East Midlands | East of England | Greater London | South East | South West